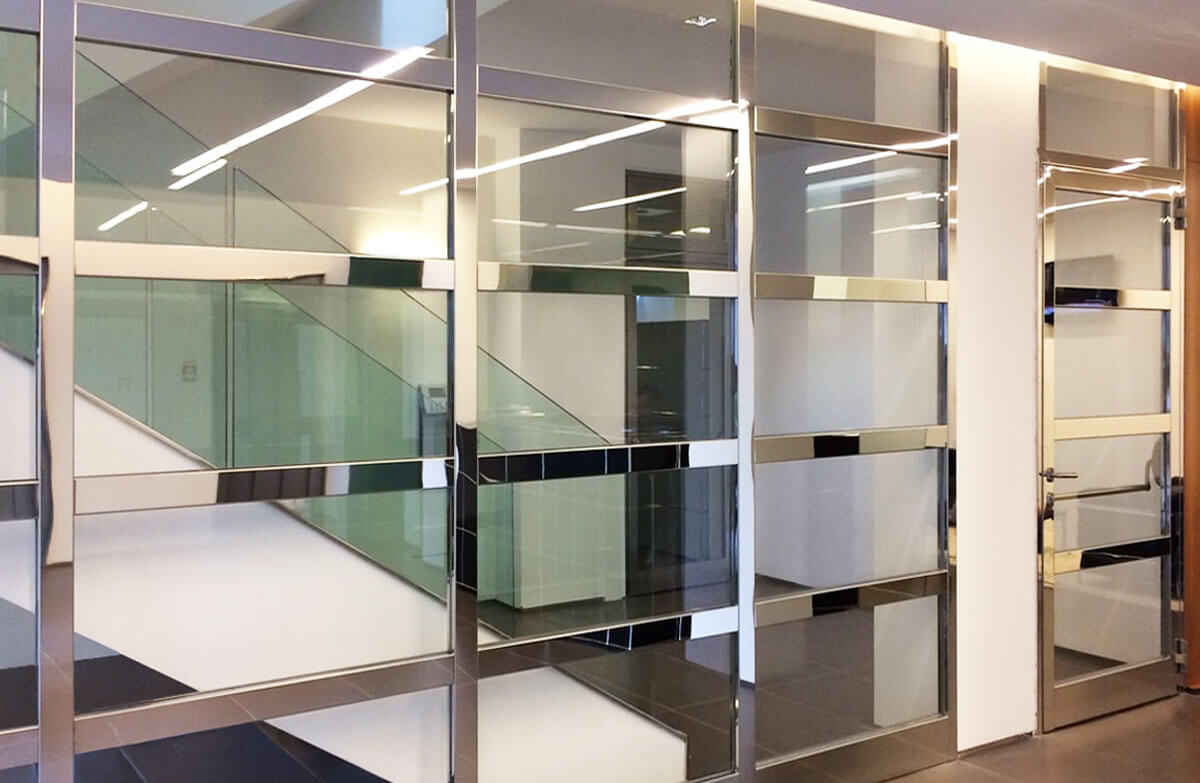 Security you can count on
Thanks to the vast experience in the security sector, Velletrani is able to offer a complete range of Fire Doors, with innovative technology and meeting the most up-to-date parameters of functionality and safety.
Production makes use of modern facilities using the most advanced technology in the construction stages, this allows for a high and consistent quality standard over time. All Doors are APPROVED in accordance with the Ministerial Decree of June 21, 2004, provided with documentation current legal provisions, according to the requirements of European standards.
Fire tests in accordance with UNI9723 and EN 1634-1 standards.
GENERAL FEATURES
Metallic Fire Doors-blind and glazed-are made entirely of galvanized materials and subjected to protective treatment by epoxy polyester powder coating in standard RAL colors. The Frames are made with a profile of considerable strength, ideal for large doors or when applied to flimsy walls. Certified and approved in the following classifications for application on masonry or plasterboard walls and fastening by means of anchors, dowels or false frames:
UNI 9723 single-leaf – UNI 9723, single- and double-leaf – UNI 9723, single- and double-leaf
Frames
remarkably robust, adaptable to all types of masonry, choice of different fixing systems, approvals for multiple applications to different types of walls, wide range of accessories.
Doors
Made of hot-dip galvanized steel sheet, "SENDZIMIR," press-folded and electro-welded. Perimeter rebate on 3 sides flat underneath; Internal reinforcements made of hot-dip galvanized steel profile; Insulation pack made of treated mineral wool and rigidly bonded to the metal sheet; Internal plates for possible mounting of door closers and handles. Single thickness 60 mm.
Standard frames
Sturdy and of considerable cross-section; Made of hot-dip galvanized sheet steel, "SENDZIMIR"; Equipped with special brackets for assembly on site; Seats for thermo-expanding gasket and rebate gasket; Standard fastening by means of clamps (except for REI 30 single-leaf door), on request; Fastening with dowels or screws on false frame. Bottom spacer , such as mounting template; Resting on finished floor without rebate; Black PA6 nylon strikers for lock latch and rostrums;
Heat-expanding gaskets;
Mounted on perimeter profile of frame, on center profile of double-leaf doors; Mounted on top and bottom of leaves according to certification;
Hinges
No. 02 three-wing hinges, for each sash; One bearing equipped with thrust bearing balls and screws for vertical adjustment of the sash, CE marked according to EN 1935, rated for load capacity up to 160 kg. One equipped with a spring for self-closing the sash.
Rosters
No. 1 or 2 safety rostrums applied from the hinge side;
Locks
Reversible lock with central latch and deadbolt – CE marked in accordance with EN 12209. Patent key insert, provision for European-type cylinder.
Handles
Fire door handle, made of black PA6 nylon and steel core; Steel underplate with cylinder hole; Black PA6 nylon overplate; Fastening screws and patent-type key insert.
Closure regulator
As standard, 2-leaf doors include the RC/STD closing regulator for the correct closing sequence of the leaves. CE marking in accordance with EN 1158;
Counter lock
Flush-bolt type for self-locking of passive sash; Lever control for unlocking;
Upper passive sash coupling system
Device operated by the counter lock encountering in the upper counter lock, upper counter lock made of stamped sheet metal with steel roller.
Lower passive sash coupling system
Vertical rod with steel ferrule that strikes in the lower counter boss, lower counter boss ( floor bushing) made of black self-extinguishing nylon with stop stop.
Marking plates
Metal nameplate with door identification data in accordance with current regulations.
Finish
Standard epoxy-polyester powder coating and heat-cured in 180° oven, scratch-resistant embossed textured surface.
| Weight of Doors | Class | Km/sqm hole wall |
| --- | --- | --- |
| 1 Door | REI 30 | 29 |
| 1 Door | REI 60 | 37 |
| 2 Doors | REI 60 | 35 |
| 1 Door | REI 120 | 42 |